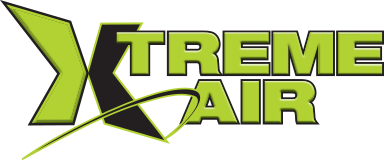 Hours And Pricing
Special Hours, Upcoming Promotions and Events can be Found under the Calendar Tabs as they become available.
PLEASE TAKE TIME TO FILL OUT YOUR LIABILITY WAIVERS PRIOR TO YOUR ARRIVAL
DUE TO LIMITED CAPACITY PLEASE PRE-PURCHASE YOUR JUMP TIME HERE ON OUR WEB SITE PRIOR TO ARRIVAL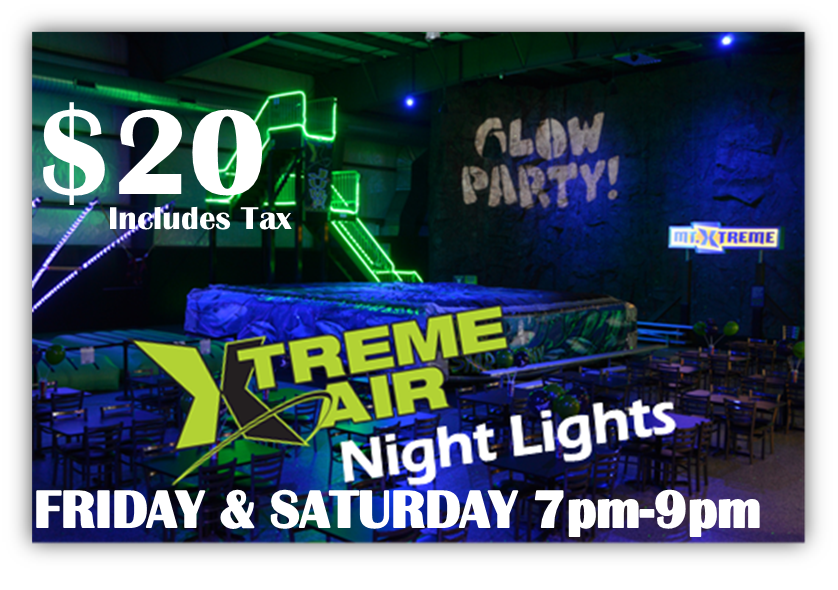 NIGHT LIGHTS- CHILDREN UNDER THE AGE OF 13 MUST BE ACCOMPANIED BY A PARENT. AS A SAFETY GUIDELINE ATTENDEES MUST BE 8 YRS OF AGE OR OLDER TO ATTEND. ATTENDEES THAT ARE DROPPED OFF MUST BE PICKED UP BY 9:00PM
PARK HOURS -
Mon thru Thursday Closing Times will vary based on pre-purchased tickets. Pre purchased tickets are required after 5:00pm
Monday thru Friday- Rock Climbing, Xtreme Stunt Jump, Wipe Out & Sling Shot are not available until 4:00pm due to staffing. Trampoline Floor & Ninja Course are open
MONDAY THRU THURSDAY
Tot Time 10am-12pm

TOT TIME IS CANCELED THURSDAY MAY 13th
Open Jump 12pm-8pm
FRIDAY
Tot Time 10am-12am
Open Jump 12pm-7pm
Night Lights 7pm-9pm
SATURDAY
Tot Time 10am-11am
Open Jump 11am-7pm
Night Lights 7pm-9pm
SUNDAY
Open Jump 12pm-6pm
Pricing
OPEN JUMP
PRE PURCHASED TICKETS ARE REQUIRED AFTER 5:00pm
60 minutes $14.00
Unlimited Day Pass $20.00 (includes Rock Wall & Stunt Jump)
All jumpers must wear a pair of Xtreme Air Grip & Go Socks: $2.00/pair-socks from other trampoline socks cannot be worn
MUST BE 3 YRS OR OLDER TO JUMP DURING OPEN JUMP TIME
TOT TIME - Ages Walking thru 5
Trampolines & Ninja Course Only
$8.00 includes parents
DAY JUMP-
Monday thru Friday 12pm-4pm
Trampolines & Ninja Course ONLY. Rock Wall, Stunt Jump, Sling Shot and Wipe out are closed until 4:00pm due to staffing.
60 Minutes $12.00
120 Minutes $18.00
NIGHT LIGHTS
Friday & Saturday Nights 7pm-9pm
$20 includes tax
Xtreme Stunt Jump is not open during this time.
Children under the age of 13 must be accompanied by a parent.
As a safety guideline children must be 8 yrs of age or older to attend Night Lights
Rock Wall
$1.00 per person unlimited use during jump time purchased.
$8.00 per person per hour Rock Climbing Only (no trampolines)
Closed toe shoes required
Xtreme Jump
$1.00 per person unlimited use during jump time purchased.
Must be 6 years old for short jump.
Must be 48" or taller for high jump.
Sling Shot
$3 for 1 ticket
$5 for 2 tickets
$10 for 5 tickets
1 ticket per turn, must be under 225 lbs and age 7 and up
To ensure this site is working properly, please Enable Javascript on your browser.